The most fundamental text of Hatha Yoga is the Hatha Yoga Pradipika, a Sanskrit classic written by Swami Swatamarama, a disciple of Swami Goraknath. It is said to be the oldest surviving text on the Hatha Yoga.
The book was written in 15th century CE. The work is derived from older Sanskrit texts and Swami Swatamarama's own yogic experiences. It includes information about asanas, pranayama, chakras, kundalini, bandhas, kriyas, shakti, nadis and mudras among other topics.
Many modern English translations of the book are available.
The book lists in great detail all the main asanas, pranayama, mudras and bandhas that are familiar to today's yoga student. It runs in the line of Hindu yoga (to distinguish from Buddhist and Jain yoga) and is dedicated to Lord Adinath, a name for Lord Shiva (the Hindu god of destruction and renewal), who is alleged to have imparted the secret of Hatha Yoga to his divine consort Parvati.
It is common for yogins and tantriks of several disciplines to dedicate their practices to a deity under the Hindu ishta-devata concept (see Patanjali's Yoga Sutras) while always striving to achieve beyond that: Brahman. Hindu philosophy in the Vedanta and Yoga streams, as the reader will remember, views only one thing as being ultimately real: Satchitananda Atman, the Existence-Consciousness-Blissful Self. Very Upanishadic in its notions, worship of Gods is a secondary means of focus on the higher being, a conduit to realization of the Divine Ground. Hatha Yoga follows in that vein and thus successfully transcends being particularly grounded in any one religion.
By balancing two streams, often known as ida (mental) and pingala (bodily) currents, the shushumna nadi (current of the Self) is said to rise, opening various chakras (cosmic powerpoints within the body, starting from the base of the spine and ending right above the head) until samadhi is attained.
It is through the forging a powerful depth of concentration and mastery of the body and mind, Hatha Yoga practices seek to still the mental waters and allow for apprehension of oneself as that which one always was, Brahman. Hatha Yoga is essentially a manual for scientifically taking one's body through stages of control to a point at which one-pointed focus on the unmanifested brahman is possible: it is said to take its practitioner to the peaks of Raja Yoga.
In the West, Hatha Yoga has become wildly popular as a purely physical exercise regimen divorced of its original purpose. Currently, it is estimated that about 30 million Americans practice hatha yoga. But it is still followed in a manner consistent with tradition throughout the Indian subcontinent. The traditional guru-disciple relationship that exists without sanction from organized institutions, and which gave rise to all the great yogins who made way into international consciousness in the 20th century, has been maintained in Indian, Nepalese and some Tibetan circles.
This article is licensed under the GNU Free Documentation License. It uses material from the Wikipedia article "Hatha Yoga Pradipika".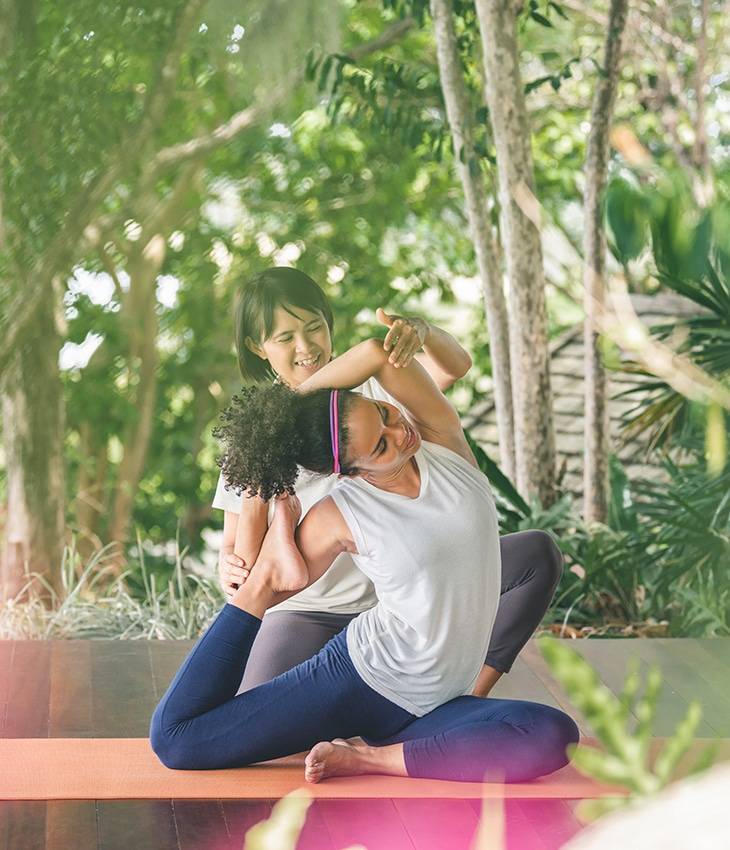 The team of Life Enhancement Mentors at Kamalaya Koh Samui Wellness Sanctuary & Holistic Spa lead guests on an inward journey of self-reflection and can support them in letting go of emotions and perceptions that may be restrictive, unhelpful or damaging.
RECOMMENDED WELLNESS PROGRAMS AT KAMALAYA