ORGANIC HEALING IN NATURAL SURROUNDINGS
Your personalised wellness experience begins the moment that you step foot into the tranquil surroundings of Kamalaya Koh Samui Wellness Sanctuary & Holistic Spa. Now it's time to begin your journey to lifelong wellness through healing.
Healing refers to emotional and physical trauma recovery and it is one of the most fundamental elements of holistic wellbeing and a key component to all forms of physical, emotional, spiritual, and personal development.
Like setting a broken bone in a cast, keeping it still and protected until it's fully healed – the same can be done with the healing of the mind when cocooned within tranquil surroundings that are luscious in nature and soothing with harmonic energy.
Discover the bountiful benefits of our most recommended natural healing methods, all designed to reconnect you to your essential self. This selection of impactful and inspiring holistic natural healing approaches draws upon ancient and natural remedies and techniques.
Acupuncture
Acupuncture is a healing system based on ancient knowledge of energy principles and works by restoring the flow of vital energy in the body. Minuscule, sterile needles are used on specific acupuncture points on the body to re-establish the flow of energy and thereby correct imbalances, restore health, and bring about enhanced states of physical, emotional, and mental wellbeing. The acupuncture experience at Kamalaya is the ultimate start to your healing journey.
Aromatherapy
Essential oils are derived from natural plant extracts to create aromatherapy – a holistic healing treatment that promotes health and wellbeing. Aromatherapy essentially works by stimulating your smell receptors to activate parts of the nervous system and limbic systems that are there to control emotions. Aromatherapy can be used with massage therapy and applied to the skin, or it can be used through inhalation to complement meditation and other healing practices.
Naturopathy
Naturopathic Medicine combines the healing traditions of ancient India, China, and Europe with Western herbal medicine and modern scientific principles and technology. Naturopathic treatments include herbal medicine, nutrition and detoxification, flower remedies, and homoeopathy and you can experience them throughout your journey at the Kamalaya wellness retreat.
Reiki
Reiki means 'Universal Life Energy' in Japanese and is a therapy in which the Reiki healer is a channel or conduit for the energy. Reiki accelerates the body's natural healing power and opens the mind, body and spirit in order to restore balance on an emotional and mental level.
Meditation
Meditation restores a state of balance and peace and leads us to greater levels of physical, mental, emotional, and spiritual wellbeing. At Kamalaya Koh Samui you will learn tailor-made meditation techniques to suit your personal healing goals and level of meditation experience. This prepares you for a lifetime habit that ensures you will experience profound shifts and enhanced feelings of peace and happiness.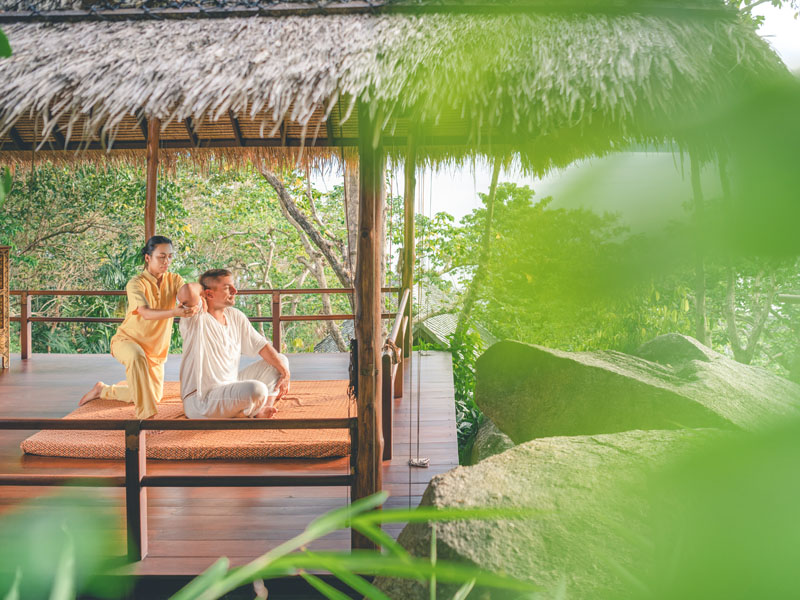 Massage Therapy
Massage therapy is both restorative and healing. Using a special technique to release emotional and physical tension, it promotes an enhanced state of relaxation and mental clarity. At Kamalaya Wellness Sanctuary & Holistic Spa we provide an eclectic selection of therapeutic massage treatments designed to focus on areas of wellbeing and concern that are personal to you.
Homoeopathy
Homoeopathy or homeopathy is a system of alternative medicine based on the principles of similia similibus curentur, or "like cures like". It draws on natural substances administered in small doses to heal and restore the body and provides a unique approach to healing
Hypnotherapy
Hypnosis, also referred to as hypnotherapy or hypnotic suggestion is a trance-like state in which you have heightened focus and concentration. Hypnosis is usually done with the help of a therapist using verbal repetition and mental images.
During hypnotherapy, a trained professional induces a state of intensely focused attention through imagery and verbal repetition. When in a trance-like state of heightened focus, the therapist takes you through a process of guided cues to address concerns and begin healing for specifically identified areas of your life.
Whether this is the beginning of your healing journey or a wellbeing experience to complement existing healing work and practice, here at our wellness sanctuary in Thailand you're guided by the professional expertise of your personal wellness consultant.
Kamalaya Wellness Sanctuary & Holistic Spa has several wellness programs designed to support natural healing. The Embracing Change program is a much-loved program designed to release physical and emotional blockages, achieve inner balance and confidence and gain freedom from unhelpful patterns of thought and behaviour.
It's recommended for developing self-compassion, finding fulfilment in relationships and exploring past emotional trauma by working with a Naturopath, our TCM Practitioners and a Life Enhancement Mentor.
Kamalaya's 'Wellness for Life' podcast in May will explore the Healing Power of Nature featuring author Florence Williams of the acclaimed 'Nature's Fix' book.  Find out more here.
RELAX & RENEW PROGRAM
at Kamalaya Koh Samui
Relax and Renew is perfect for anyone wanting a break from the demands of modern life or to treat themselves to a reconnection to their spirit.
Choose from 3, 5, 7, 9 or 14 days
BOOK A WELLNESS CONSULTATION WITH KAMALAYA NATUROPATH

on Kamalaya Connect
These sessions provide an opportunity to discuss any wellness concerns, as well as review your health goals, medical conditions and reports in complete confidence.
US$ 94
45 minutes
RECOMMENDED WELLNESS PROGRAMS AT KAMALAYA
COMPREHENSIVE OPTIMAL FITNESS