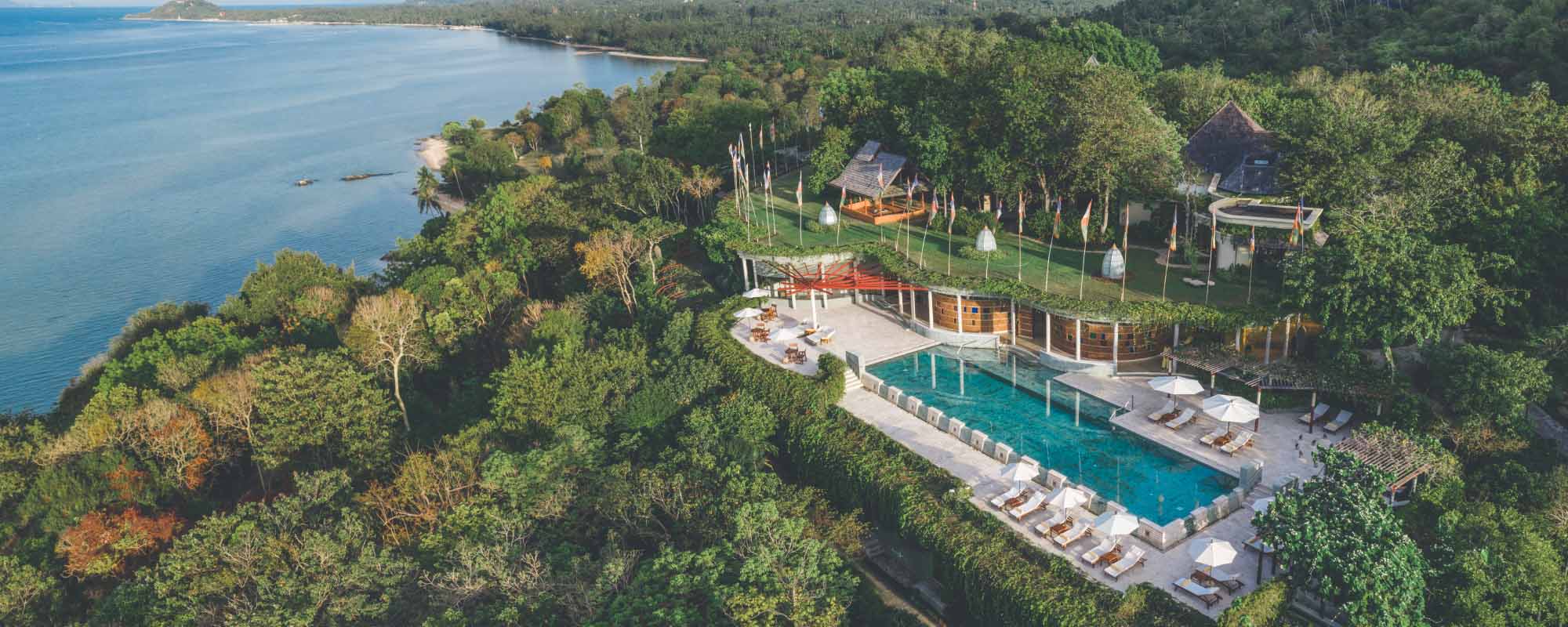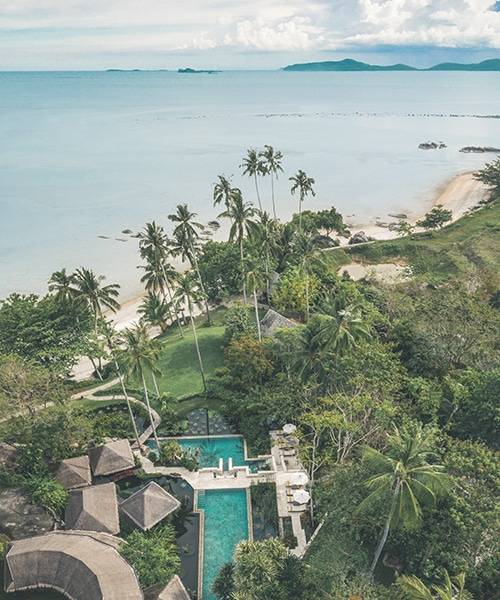 Located amid a lush tropical landscape on the southern tip of Koh Samui in the Gulf of Thailand, Kamalaya is perched upon a 55-metre-high hillside. Nestled into the jungle, surrounded by verdant vegetation, ancient boulders, cascading streams, overlooking an idyllic lagoon while sloping down towards a natural reef-protected beach, Kamalaya's spirit of place is an integral part of the guest experience.
Energise or unwind with the choice of two swimming pools and a beach at Kamalaya.
LAP POOL
Guests have the option to enjoy to swimming pools at Kamalaya. Adjacent to Shakti fitness centre, a 25-metre lap pool showcases panoramic views of the nearby islands. Fresh water and fruit snacks are offered to all at this pool. In addition to the three-floor gym, additional facilities at this pool include sun loungers, a steam cavern, cold plunge pool, changing rooms, showers and lockers.
LEISURE POOL
Located at Amrita Café in close proximity to the beach, the leisure pool is uniquely intertwined with the natural lotus ponds, where turtles and Koi fish enjoy their aquatic life. The pool also features signature marble steps with Buddhist motives and artistic elephant sculptures. Guest toilets and changing rooms are available at the Leisure Pool, as well as comfy sun loungers and fresh drinking water.
THE BEACH
Bordered by rocks and boulders, the 250-meter natural beach features sun loungers, a hammock and flat swing and is a quiet corner for contemplation and relaxation.
Offshore the beach is surrounded by coral reefs resulting in mostly still and peaceful waters. Shells and coral can be found along the seafloor, and guests are encouraged to wear the complimentary diving shoes provided when walking in the water. Complimentary paddle boards and kayaks are available to explore the lagoon and coastline.
Being on the southern part of the island, also means that the water tides are opposite of the most popular Koh Samui's beaches. Most of the year the high tides are occurring during the nighttime, while during the daytime the lagoon can be shallow. The daytime high tides are usually present during the winter months from January to March, though this can vary according to natural manifestations.