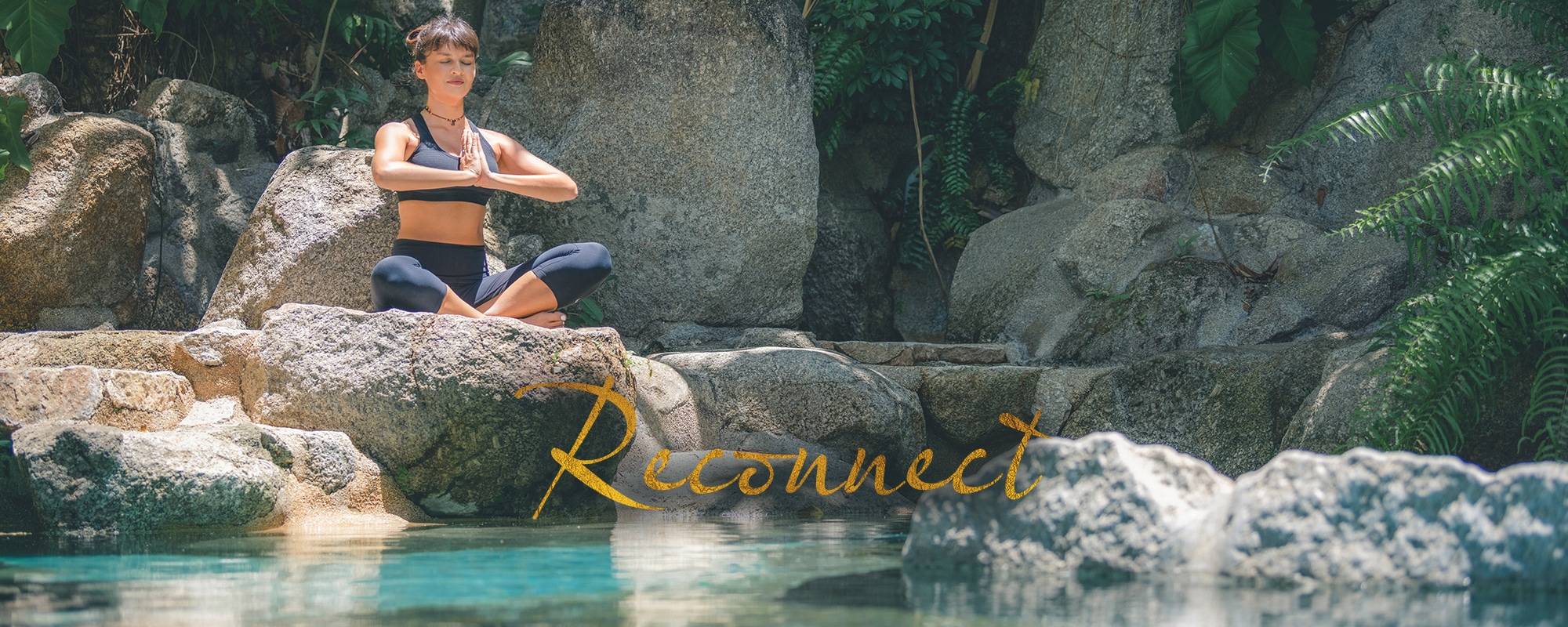 FREQUENTLY ASKED QUESTIONS
EVERYTHING YOU NEED TO KNOW ABOUT KAMALAYA KOH SAMUI
Where is Kamalaya located?
Kamalaya is located on the South Eastern side of the tropical island of Koh Samui. We are approximately 25 kms, about a 45 minute drive, from Koh Samui airport. Location
How can I get to Koh Samui?
Thai Airways and Bangkok Airways fly to Koh Samui from Bangkok. Please visit www.thaiair.com and www.bangkokair.com for their current flight schedule and airfares.
It is also possible to fly direct to Samui from a number of international destinations, including:
Additionally, Bangkok Airways runs regular flights to Samui from Phuket, from which there are flights to many other international locations. And Bangkok Airways also operates direct flights from Krabi, Patthaya and Chiangmai.
What are the requirements to enter Thailand?
Standard applicable visa regulations.
Connecting Baggage Services
Many of International airlines offer connecting baggage services including Thai, Qatar, Emirates, Etihad, Qantas, KLM, Lufthansa and Swiss Air. Please contact Bangkok airways for a further list of Airlines.
Which airline fly to Koh Samui from Bangkok?
Thai Airways and Bangkok Airways are flying to Koh Samui. Please visit www.thaiair.com and www.bangkokair.com for their current flight schedule and airfares.
What beach is Kamalaya located at?
Kamalaya is located on its own private stretch of beach adjacent to Laem Set Beach, a small, peaceful lagoon.
What is your check-in and check-out time?
Check-in time: 14:00
Check-out time: 12:00
What facilities do you provide in the guestrooms?
All of our accommodation includes air-conditioning, CD/IPod dock stereo system, refrigerator, beverage and snack facilities, personal safe, telephone and internet connection, hair dryer and yoga mats. We also provide a pillow menu and optional mattress toppers; please refer to the guest profile form in your reservation confirmation. We ask that you complete and return this form prior to your arrival. If you have made a reservation but have not received the form, please contact reservations(at)kamalaya.com.
Do your guestrooms have TV?
To optimise the opportunities for rest and relaxation, we do not have televisions in our guestrooms. Our aim is to offer a tranquil and supportive environment with minimal external distraction so you can exhale deeply, let go of stress and tension, and reconnect with yourself, nature and the community of hosts and other guests. However, we can install televisions and DVD players on request. There is no reception in accommodation for television so the TV unit is for watching DVDs only. Confirmation is subject to availability. There is a collection of DVD's to choose from at Guest relations (Ext. 0) We also have a large screen TV available to watch TV programs and movies in the Library, which is open 24 hours.
Do you offer in-room internet connection?
All guestrooms come with complimentary WiFi. For your convenience, there is also complimentary 24-hour internet access in the Library and you are welcome to use one of the available computers. However, Kamalaya cultivates a Digital Detox, so to ensure that you and your fellow guests are able to disconnect from the outside world and fully immerse in a wellness program, WiFi is intentionally weak in all public areas and mobile phones, laptops and other digital devices, except e-books, cannot be used.

What is the Cancellation Policy
Cancellation charges apply to both wellness programs and accommodation bookings
Any cancellation within 7 days of arrival will be charged at 100% of the full booking
Any cancellation within 21 days of arrival will be charged at 50% of the full
20 Dec – 15 Jan each year: 50% of full booking charged if cancelled within 45 days

Non-arrival and early check-out policy
In the event of guest non-arrival or early check-out, Kamalaya Koh Samui will charge 100% of the total booking fee (including accommodation and wellness programs) for the full length of stay and as per the most up to date booking confirmation.
We strongly advise that all guests take out adequate travel insurance in case of unavoidable emergencies that may result in the cancellation of their stay at Kamalaya.
Do I need to do anything special to prepare for my stay?
No special preparation is required. If you are joining a detox program, we do recommend that you follow our to get maximum benefit from your time with us. Please contact info(at)kamalaya.com if you would like a copy.
What should I bring?
We suggest you bring loose and comfortable clothing, swimming costume, sunglasses, hat, sports shoes, casual and comfortable sandals/shoes, exercise wear, sleepwear, sun protection. We provide a range of natural amenities in your room, including shampoo, conditioner, body lotion and liquid soap; however you may want to bring other personal toiletries.
Do I need to pre-book my wellness program?
It is always helpful if guests can pre-book treatments and programs, this just assists us with scheduling and guarantees that the treatments will be available to the guests at their requested times. It is not a problem if you chose to book the treatments on arrival, but always helpful if we can have this information prior to arrival. Reservations can assist with your pre-bookings.
What if I have special health concerns or particular goals? Should I advise in advance?
You will receive a Guest Profile form and a Health Profile form with your reservation confirmation. The Health Profile form includes questions about your health concerns, medical history and objectives for your stay at Kamalaya. So that we can best prepare for your stay, we ask that you complete and return these forms prior to your arrival. If you have made a reservation but have not received the forms, please contact reservations(at)kamalaya.com.
What are your opening hours for the Wellness Facilities?
Wellness Sanctuary and Spa: 8 am to 8 pm
Steam Rooms: 8 am to 8 pm
Lap Pool: 7 am to 6 pm
Fitness Centre: 7 am to 8 pm

Do you have a shuttle bus service available to tourist areas such as Lamai or Chaweng?
Most of our guests choose to spend their days making use of the services and facilities at Kamalaya. With such little demand for outside exploration, we do not offer a regular shuttle service; however, we can provide a taxi service for you.
Do you allow infants/children at Kamalaya?
The facilities and services at Kamalaya are designed for adults who seek the time, place and expertise to improve their wellbeing. Kamalaya is not recommended for infants and children and there are no child concessions available, and no special facilities or services offered. However, Kamalaya intends to provide the possibility for parents who would like to do a wellness program and bring their children. Therefore, the following policy applies, subject to availability.
Accommodation
Children aged 0 to 16 are only permitted to stay in the private villa accommodation categories.
A maximum of one child sharing a villa with their parents is permitted.
For every room booked, there must be one adult with a pre-booked wellness program for the duration of their stay.
Children below the age of 8 can stay free of charge on the sofa bed of a villa when sharing with their parents. Baby cots are available complimentary.
Dining
Children below the age of 4 can dine free of charge when dining with paying parents/adults.
Children aged over 4 and below 8 are entitled to a 50% discount on all meal rates and will be served half portions from the regular menus.
Children aged 8 and over will pay full meal rates.
Wellness
Children aged 0 to 16 may not participate in any wellness activities or treatments and are not allowed into the wellness sanctuary or its facilities; this includes Shakti Fitness Centre and lap pool; and the leisure pool adjacent to Amrita Café is not permitted between 12.00 and 16.00.

Is Kamalaya a good place for someone travelling alone?
Yes, it's an ideal place to come alone. We get many people who are visiting on their own and they find the relaxed, informal and friendly environment safe and comfortable. We have a Community Table for guests who would like some company during dinner, and this is a great way to connect with other guests.
Is there a minimum stay?
Yes, throughout the year we have a 3 night minimum stay, in our peak season (20 December – 15 January) we have a 7 night minimum stay. To fully experience Kamalaya, we recommend that you book a minimum of 7 nights and the longer you can stay the greater the benefits.
Will I be pressured to participate in activities?
No. What you do, or don't do, is entirely your choice and our wellness practitioners are here to guide and support you in your choices.
What about smoking and alcohol?
We have a deep respect for each person's innate wisdom and don't impose our beliefs on guests, preferring to offer guidance, encouragement and support.
Smoking – For safety reasons and out of consideration for other guests, we ask that you refrain from smoking in your room. Smoking is not permitted in the restaurants or public areas. You may smoke in the sala next to the resort entrance, or in the designated area behind the beach attendant's building. Please consider the comfort of your fellow guests, and understand that if anyone is affected by your smoking, you may be asked to stop.
Alcohol – Selected Alcoholic beverages are available at both Amrita and Soma Restaurant during meal times, serving a selection of beers and wines including organic options.
Can I bring my laptop and mobile phone?
Yes, you can, however to promote a peaceful environment and in consideration of other guests, we insist that you only make or receive calls in the privacy of your own accommodation and we ask you not to use electronic devices in the communal areas. If you wish to carry these items with you, please keep them on silent and refrain from using them for communication or business purposes until you return to your room.
What sort of visitors do you get?
Our guests come from all walks of life, from countries across the globe. We are here for people that are looking to enhance their life experience, whether that is physically, spiritually, emotionally or any combination of the three. Where some wellness retreats pride themselves on being 'exclusive', at Kamalaya we strive to be 'inclusive' by making the Kamalaya experience accessible to as many as possible.
Do you accept credit cards?
Yes, we accept MasterCard, Visa, Amex and Diners card.
When is the rainy season for Koh Samui?
The rainy season for Koh Samui is from late October to December.
Climate
Koh Samui features a tropical monsoon climate under Köppen's climate classification. The climate is warm and humid for most of the year. The island only has one true dry season month, average monthly precipitation in February falls below 60 mm, the threshold for a tropical dry season month. The heaviest precipitation is typically seen in the months of October and November. For the rest of the year, given the tropical climate, rain showers are brief; 20–60 minutes duration is typical. The island sees on average just under 2000 mm of precipitation annually and in comparison to Phuket and most of the rest of Southern Thailand, Samui's weather is relatively dry.
If people did want to go out for a drink / nightlife would they have to go to Chaweng? How long would this take in a taxi?
Chaweng is one of the areas for that, and it would take about 30 minutes.
Do you make special plans for holidays such as Christmas and the New Year?
Yes, there is a festive program of activities and special menus during the holidays. Please contact info(at)kamalaya.com to find our more information.
What languages does your staff speak?
English, Thai, French, German and Hindi.
What if I have special dietary preferences and needs?
Kamalaya cuisine offers menu options for all dietary preferences, from delicious salads and raw food preparations to fresh seafood and poultry. Please indicate any special dietary requests on the pre-arrival Guest Profile form.
Do you serve meat in the restaurants or is it just vegetarian and fish?
Yes, we have a variety of poultry dishes available, as not all guests are here for detoxification. We however do not serve pork and beef.
What is the dress code in your restaurants?
The dress code is casual, relaxed clothing.
How many dining outlets do you have?
We have two restaurants – Soma for breakfast and dinner, Amrita Café for lunch. We also have the Alchemy Tea Lounge for snacks and beverages throughout the afternoon and evening.
ACTIVITIES AND EXCURSIONS
What activities are available?
Games – chess and backgammon board games are available.
Movies – An interesting collection of travel, cultural and educational documentaries, and an inspiring library of mind-opening movies, old favourites and comedy classics are available to watch in your room, or on the Library's large screen TV.
Cultural activities and events – Kamalaya offers regular cultural activities and events to celebrate Thai festivals and holidays. These include a weekly cooking class, Thai temple and teachings tour and Oolong tea sharing. A schedule of activities will be provided upon your arrival.
Fitness and holistic activities – You can visit the Shakti Fitness Centre or try a holistic fitness class. Choose from different styles of yoga, Pilates, Tai Chi, Qi Gong, Stretching, Pranayama and Meditation. A schedule of activities will be provided upon your arrival.
Island excursions, kayaking, cycling, boat trips, golf and tennis can also be arranged.

If I decide to sign up for a special program, such as Detox or Asian Bliss for example, will there still be sufficient time to join your holistic fitness classes?
Yes, your treatments can be scheduled in such a way that you will still be able to enjoy our activity classes.
What are the options for swimming?
Kamalaya has a lap pool beside our Fitness Centre and a leisure pool beside Amrita Café. Kamalaya opens onto a tranquil beach lagoon which has seasonal low water levels. Please take care of coral when walking in the water. Please also be aware of occasional strong currents as there is no life guard on duty. To protect your feet, rubber shoes are available from our beach attendants for the walk and for exploring the coral and marine life visible in the shallow water.
Do you organise activities/excursions outside of Kamalaya?
Kamalaya has a variety of excursion opportunities for guests to enjoy on Koh Samui and outlying Islands. A brief summary of some possibilities is given here. However, for more information about these excursions, or others you may be interested in, please contact our reservations team.
Thailand is famous for its vast array of beautiful temples, shrines and religious buildings that are present throughout the country. We offer our guests the opportunity to explore the Island and discover some of Samui's cultural background.
Koh Samui Island and Thai Temple Cultural Tour
Visit Laem Sor Temple
Pay respect at Wat Kunaram (Mummified monk)
Visit the Grandmother and Grandfather rocks
Visit the View Point at Chaweng Noi
Pay respect at Big Buddha, a 40 foot high image of the meditating Buddha on the northeast of the island, Bang Rak.
Visit Wat Plai Laem Temple, a spectacular living and active temple, where devotees come daily to pay homage to Guanyin and the Buddha, who is also depicted in a number of statues and murals around the temple.
Visit Fisherman's Village, Bophut. A quaint village located on the North of the Island, this area is ideal for souvenir shopping along the beach road.

Kamalaya Boat Trip
Weather dependent, we offer a scheduled weekly boat trip aboard the magical 30-metre wooden Turkish Ketch, for an afternoon of cruising around the Southern Coast of Koh Samui and the beautiful neighbouring Islands of Koh Mudsum and Koh Tan. Enjoy an array of relaxing activities onboard, including: Snorkelling, Swimming, Massage, Sunbathing and a gourmet buffet lunch onboard prepared by our Kamalaya Chef offering Detox and non Detox options. For more information, please contact our reservations team.
Other Activities on Koh Samui
Elephant Trekking at Namuang Waterfall
Hiking at Namuang and Hin Lat Waterfalls.
Mountain Bike trails or road cycling
A round of Golf (International standard)
Do I need to prepare myself in any kind of way for the Detox prior to my arrival at Kamalaya?
While not absolutely necessary, you will maximise your detox benefits and reduce detox symptoms if you follow our detox pre-arrival suggestions. By reducing your intake of things like alcohol, coffee, meat, dairy, refined carbohydrates and processed foods and increasing the consumption of fresh fruits and vegetables, green tea, nuts, seeds, whole grains, legumes and water you will be preparing your body for the in-depth metabolic and cellular detoxification process.
Do you offer assistance with the Colonic hydrotherapy sessions?
Yes, one of our nurses will assist you during your Colonic Irrigation.
Can I do a Colonic hydrotherapy session every day?
We recommend a Colonic irrigation about every 3 days. It is important to give your body enough time to recover in between.
Do you offer juice / water fasts?
No, Kamalaya's detox approach brings together Asian healing traditions with the more scientific bio-chemical western examination of how things work. In our results-oriented detox programs guests do not fast. Instead, we nourish and nurture them through the detoxification process. Kamalaya's signature detox cuisine is designed to provide essential nutrition for detoxification. The aim is to increase cellular metabolism, minimize toxic intake, reduce inflammation and improve digestive and every organ function.
WELLNESS SERVICES AND PROGRAMS
Do you offer Group Retreats?
Yes, in our low season we do host group retreats with world-renowned teachers. Retreat topics include yoga, Pilates, meditation, and spirituality from different traditions. To see our upcoming retreat schedule, please visit our calendar. Kamalaya instructors also lead group and personal yoga classes for both novice and advanced practitioners. Yoga styles offered are Ashtanga Vinyasa, Kundalini, and Hatha, Yin, Power along with Pranayama and meditation. Holistic Fitness practices include Pilates, qi gong, tai chi, and cardio classes. Individual fitness testing is available, along with personal strength resistance training, guided hikes, kayaking and beach activities.
Do you offer yoga classes?
Yes. Yoga styles include Hatha Vinyasa, Kundalini, Yin, Power, and Ashtanga yoga, in addition to meditation and Pranayama.
What alternative therapies do you offer?
Holistic medicine such as Traditional Chinese Medicine, Naturopathy, nutritional guidance and homeopathy. Therapies such as Chi Nei Tsang (Taoist abdominal massage), lymphatic drainage massage and Reiki are also offered. We also have Ayurveda treatments, plus the usual spa treatments and therapies. Facilities also include the latest equipment to support detoxification such as also colonic hydrotherapy and far-infrared saunas.
Do you offer blood analysis?
Yes, this can be arranged through the Bangkok Samui Hospital, which is an international standard hospital.
Can changes be made to my wellness program?
Yes. However please note that Kamalaya's wellness programs have been designed to help you reach your health goals in the most effective way. Any changes made to your program may compromise the efficacy of the program and the overall result.
Guests wishing to change or eliminate specific treatments in confirmed packages may do so subject to availability of the therapy they wish to substitute.
Kamalaya wellness packages carry a built-in 20% discount on all wellness and food and beverage services so cancellation of any packaged therapies will be credited at 80% of listed prices assuring that the credited amount is equivalent to the unused portion of the original package.
Treatments selected in substitution will be charged at listed retail rate against which any credits can be applied.
Credits against cancelled treatments may be used towards the purchase of treatments and services listed in the Kamalaya Wellness Sanctuary & Holistic Spa treatment menu except treatments or sessions with visiting practitioners.
Credits against cancelled treatments can not be redeemed for food and beverage, accommodation, purchases in the resort's retail shop or other resort services.
Above conditions apply equally in the case of a contra-indication whereby Kamalaya's health practitioners advise against a certain treatment or service included in a wellness package.
Any cancelled treatments that are later re-instated into the package will be charged at listed retail rate.
For unused credits from cancelled treatments in confirmed packages, a wellness voucher will be issued which will be fully transferable and can be redeemed by any guest during their present or future stay at Kamalaya (within the validity date stated on the voucher) and the voucher will not be not redeemable for cash or other substitutions, not replaceable if lost, destroyed, stolen or expired, and void if altered, photocopied, or reproduced.