YOGA FOR HEALTH & HEALING
IMMERSIVE YIN & YANG YOGA GROUP RETREAT FOR ALL LEVELS WITH SIMON LOW
Awaken and revitalise new dimensions of your practice with one of the world's leading 'Yin & Yang' yoga experts. A small group format allows Simon to give each participant individualised attention. Modifications to asanas ensure progression for all participants, making this immersive retreat rewarding for beginners and experienced yogis alike. Rooted in the ethos of 'principle over posture', practicing under Simon's guidance can add depth to any practice.
4 nights' accommodation
Full board of Kamalaya's Inspired Healthy Cuisine
All beverages, excluding imported drinks & alcohol
Roundtrip airport transfers
Tropical welcome drink upon arrival
3x morning Yang Yoga class from 7:30-10:00
3x evening Yin Yoga class from 16:30-19:00
1x 60 minute Royal Ayurvedic Massage
1x 90 minute Vital Essence Oil Massage
1x 90 minute Traditional Thai Massage
Use of swimming and plunge pools, steam caverns, fitness and yoga facilities
Complimentary attendance to scheduled daily holistic fitness activities
One wellness gift bag
Optional evening activities including film & discussion
20% Discount on additional Wellness treatments (excluding Visiting Practitioner sessions).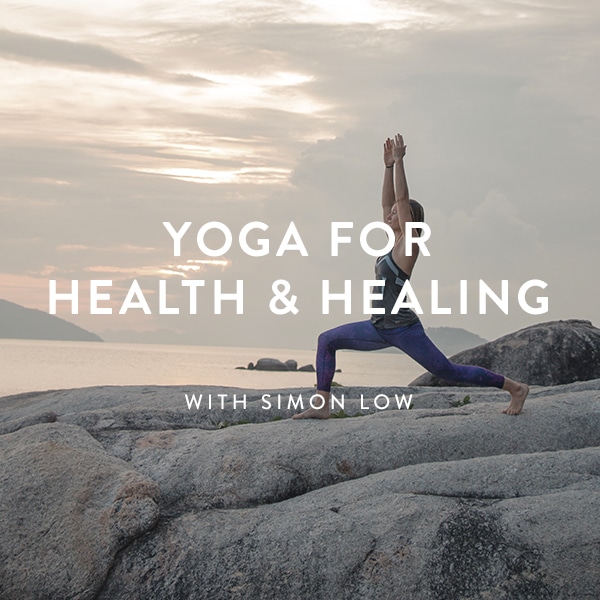 Simon Low is the Principal of the Yoga Academy, co-founder of London's Triyoga and consults for yoga studios and retreat centres across the world. Throughout his many years experience teaching both yoga teachers and students internationally he has developed a unique style infused with the influence of his additional studies in Qi Gong, psychology, pranayama and Taoism. To imbue the practice with a profound equilibrium, Simon incorporates 'yang' elements of continually flowing vinyasa sequences to build flexibility and strength with 'yin' elements of restorative asanas to balance the energy meridians and promote a grounded sense of presence. With a deep sensibility and respect for the body's anatomy and biological rhythms, Simon's methodology prioritises the principles of yoga, breath work, caring for the joints and safe, precise alignment.
YOUR TREATMENTS EXPLAINED
VITAL ESSENCE OIL MASSAGE
Kamalaya's unique Vital Essence Oil Massage combines Asian knowledge of energy principles with the science of aromatherapy to create the perfect synergy between East and West. This magical and harmonising experience is a simple and effective way to let go of tensions, improve your health, balance your emotions and enhance your life. One of our Five Element essential oils will be selected to suit your body's constitution: Water, Wood (Air), Fire, Earth, and Metal (Ether).
ROYAL AYURVEDIC MASSAGE
A traditional Indian massage using a combination of soothing and symmetrical long strokes to regulate the circulatory and nervous systems of the body. This detoxifying therapy uses warm herbal curative oil to leave you feeling refreshed, balanced and rejuvenated. The oils are generously poured over the entire body and then vigorously massaged into the skin. This traditional Indian massage detoxifies your body and revitalises your spirit. A steam bath is recommended following this massage.
TRADITIONAL THAI MASSAGE
Thai massage is based on the discovery of ten invisible energy lines called Sen, which run along the body. Your journey begins with a masterful combination of Thai stretching techniques and deep tissue pressure point massage. This stimulates the blood flow, releases toxins, and allows the body to naturally heal itself and restore suppleness. Daily Thai Massage can help accelerate the pace of the detoxification process and reduce any discomfort. This treatment is available with or without the use of a hot herbal compress. The hot herbal compress, which is an ancient Thai healing tradition, uses a potent blend of herbs that are designed to open energy pathways directly affecting the brain. This can help to clear mental fog, soothe and calm the mind.
EXPLORE OTHER WELLNESS GOALS