HOLISTIC FITNESS & WELLNESS ACTIVITIES AT KAMALAYA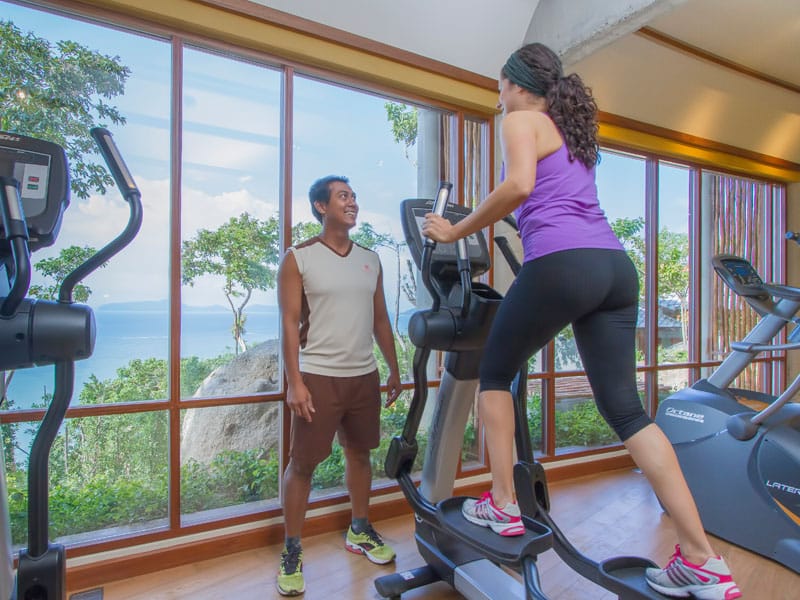 Kamalaya Koh Samui Wellness Sanctuary & Holistic Spa offers life-enriching programs that combine wellness and healing therapies designed for the wellbeing of the body, mind and soul. With techniques, ancient rituals and practices derived from the East and West, we're proud that Kamalaya has become renowned for being a world-class destination for total and holistic health.
At Kamalaya we offer a wide selection of the highest quality programs, organised fitness activities and lifestyle practices including:
Muay Thai
Muay Thai or Thai Boxing can help you stay fit and enhance your fitness levels. Known as the 'art of eight limbs', this martial art aids in building a good physique, strengthening your core muscles and shedding extra pounds. In addition to being a powerful art form, Muay Thai can help improve cardiovascular health, mobility, and is a fun way to achieve your fitness goals without spending long hours on fancy gym equipment.
Personal Training
Our training harnesses the power of serene surroundings to create a luxurious wellness experience that rejuvenates your body, mind, and soul. Our dedicated trainers draft a workout plan customised according to your fitness goals. The 60-minute impactful sessions under the keen eyes of personal trainers help you get fitter quicker. Our trainers guide, motivate and follow up to ensure you are on track with your fitness goals. In addition to a fitter you, you take home a treasure trove of knowledge to help you maintain your fitness levels.
Functional Fitness
Our functional fitness targets a full-body workout that prepares you to go through your daily physical routine with ease. It involves strength training to tone your body, while calories burn in the background. Functional fitness routines include multi-joint movements of your shoulders, wrists, elbows, spine, hips, and knees. This training consists of everyday activities like walking, squatting, bending, pushing, pulling, lunging, etc., promoting better flexibility, endurance and balance. It helps burn more calories while improving functional strength.
Aqua Aerobics
Kamalaya's aqua aerobics can help you tone up by offering a mix of cardio and strength workouts. Recommended if you are recovering from injuries or have a previous history of workout injuries as water helps ease the stress on joints and muscles while building endurance. Aqua aerobics at Kamalaya helps muscles get a more rigorous workout, thereby gaining more agility, flexibility, and muscle strength. Our training sessions comprise of low impact exercises while aiming for all-over toning to achieve better fitness.
Qi Gong
Qi Gong is a graceful martial art form popularly referred to as 'meditation in motion'. This mind-body practice promotes serenity and overall wellbeing with its gentle and flowing movements. Our Qi Gong instructors help you with a series of low-intensity motions that need to be performed with concentration and deep breathing. They guide you through the self-paced routine, with each posture flowing into the next without a pause keeping the body in constant motion. Qi Gong at Kamalaya helps boost stamina and energy while improving balance, flexibility, agility, muscle strength, and definition.
Yoga
Yoga offers holistic benefits of healing the mind, body, and soul. Yoga poses improve muscle strength, endurance and flexibility while leaving you refreshed. Our yoga sessions come in four styles – Yin, Restorative, Power and Flow. Depending on your fitness goals, our yoga instructor recommends a style that suits you. Based on your comfort levels, you can do this mindful exercise for either 60 or 90 minutes per session.
Circuit Training
A fitness routine with a series of exercises and short breaks between, circuit training at Kamalaya can be either for a prescribed time or a number of repetitions. One circuit is complete when all the chosen combination exercises are done. Our trainers offer multiple circuits in a single training session. It can be the ideal form of fitness training if you want to step up your exercise routine as it is an efficient, quick full-body workout that combines strength training and cardio.
Reformer Pilates
Reformer Pilates is highly effective in toning, lengthening, and stretching the muscles in a low-impact routine with controlled and repetitive movements. Reformer Pilates can help develop core strength and improve posture. The core workout strengthens the core, reducing the risk of back injury. Despite being a low-impact workout, it can help you get in better shape while peaking energy levels. Like yoga, Pilates is also a mind-body exercise that helps coordinate the mind, body, and spirit.
Super Stretching
Super stretching can effectively improve mobility and support your fitness goals. Our passive stretching exercises increase the blood flow and power your muscles to perform better as it is a combination of Thai massages and Proprioceptive Neuromuscular Facilitation (PNF) stretching. Super stretching improves your flexibility faster than self-stretching. It prevents muscle injury and reduces muscle soreness, making you feel more relaxed. It also recovers muscles after exercise so you can feel re-energised to do your workouts the following day.
HIIT (High-Intensity Interval Training)
HIIT is an intense exercise that alternates between low-intensity exercises with some recovery periods. It is an effective exercise that helps to build your stamina and endurance in a short period. Additionally, the intensity of HIIT can increase your metabolism even hours after exercise. So, you can reap the benefits long after your exercise routine to aid optimal weight for your body. HIIT at Kamalaya includes Abs, Back & Glutes training, assisting you with targeted training. You can gain muscle mass too similar to weight training.
Upon arrival, all guests at Kamalaya receive a body bio-impedance analysis, guidance and personal consultations with the wellness sanctuary's expert team of naturopaths, TCM practitioners, life enhancement mentors, and highly trained expert therapists.
With expansive outdoor space, open-air dining, lush tropical vegetation, cascading streams, 250 meters of private beach and a cave once used by Buddhist monks as a place of meditative retreat, Kamalaya's nature and the setting are an integral part of each guest's experience. Begin your personalised journey to lifelong wellness here.
RECOMMENDED WELLNESS PROGRAMS AT KAMALAYA
COMPREHENSIVE OPTIMAL FITNESS