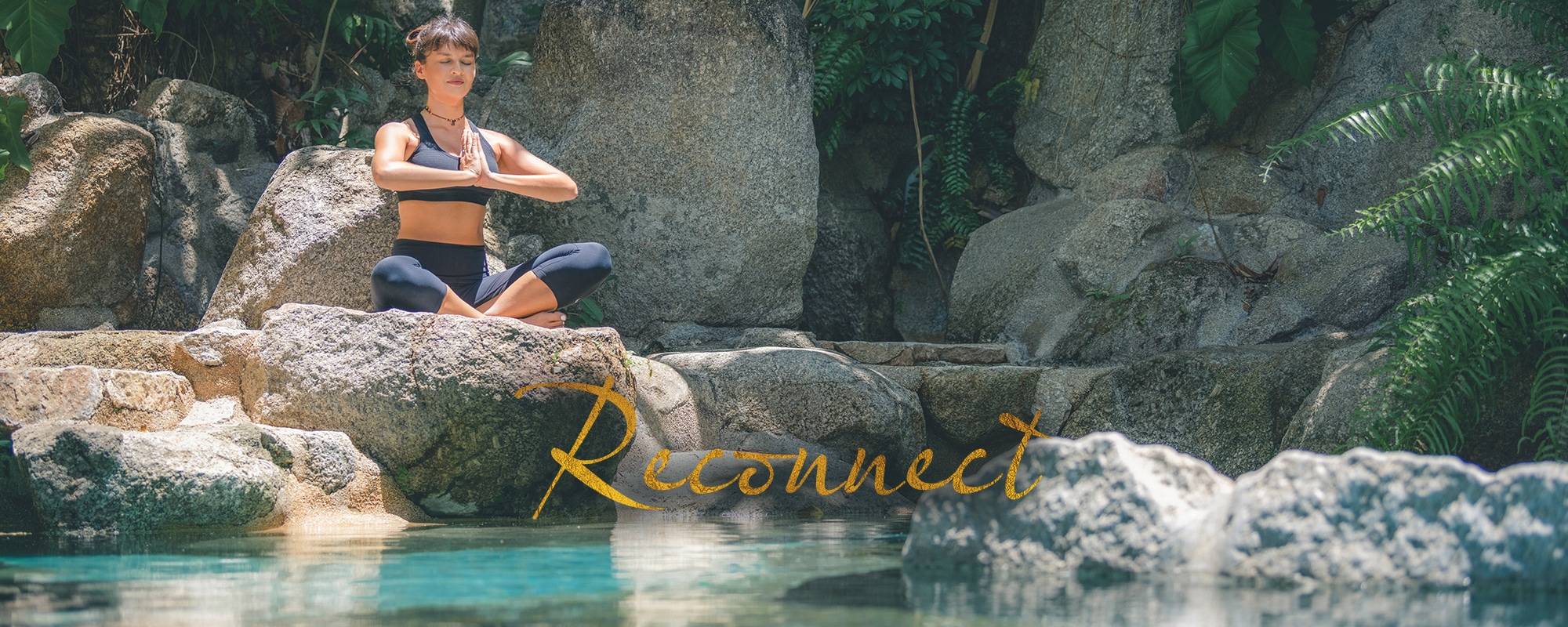 MULTI-AWARD-WINNING RESORT FOR CLEANSING AND LIFELONG WELLNESS
Kamalaya Koh Samui Wellness Sanctuary & Holistic Spa was envisioned by two people's life experiences and their desire to bring together diverse traditions and cultures in a nurturing, healing environment from which people can explore and embrace life's potential.
The founders, John and Karina Stewart first met in 1982, on the outskirts of the Himalayas where John spent 16 years devoted to the life of spiritual studies alongside a distinguished spiritual leader of the time. During his years in the Himalayas, John helped local communities to build schools and hospitals, his life of service lay the foundations for Kamalaya's mission to serve people and make the world a better place, one person at a time.
Karina's 22 years of experience in the study and practice of diverse Asian healing and her background as a doctor of Traditional Chinese Medicine were crucial in the development of the diverse range of wellness programs and the healthy cuisine concept that supports it.
When John visited Koh Samui in 2000, he discovered a piece of land that immediately captivated him with its special energy. He was particularly drawn by a cave that once served as a place of meditation and spiritual retreat by Buddhist monks, and with this discovery, he knew that he had found the ideal home for Kamalaya. To this day, Arjan Cave remains at the heart of the wellness retreat where guests are welcome for quiet contemplation.
The execution stage of the project began in 2004. Stewarts commissioned Australian architectural artist Robert Powell to translate their vision into a reality with a brief to maintain the integrity of the land. The overall architectural concept of Kamalaya is a reflection of its wellness concept: that a connection to nature is a vital, nurturing element integral to one's overall health and wellbeing. The beauty of the surrounding nature with ancient boulders, lush vegetation and a pristine coastline, is integrated into the simple elegance of Kamalaya's architecture and design. The 76 unique accommodation options range from cosy Hillside Rooms to ocean-view Suites, spacious Villas and Penthouse Suites, including some with private pools.
Integrating the beauty of the surrounding environment into its design, the Wellness Sanctuary features open-air treatment spaces as well as deluxe air-conditioned suites. There are over 50 certified wellness professionals at Kamalaya, including naturopaths, doctors of Chinese medicine, western medical doctors, registered nurses, nutritionists, life transformation experts, Ayurvedic and Thai therapists, fitness specialists and yoga, meditation and pranayama teachers.
Kamalaya offers 16 wellness programs that fall into five different categories including Healthy Lifestyle, Detox & Reset, Stress & Burnout, Cultivating Heart, Body & Spirit, and a Taste of Kamalaya programs that can be experienced over just three days; making Kamalaya one of the first detox and cleansing resorts in Thailand. Since its opening in 2005, the retreat has been recognised around the world as one of the leading wellness destinations and has won multiple awards while attracting visitors from Europe, Australia, the US, the Middle East and Asia.
For many people, our modern, fast-paced world has disconnected them from their own powerful source of healing potential. At Kamalaya, being reconnected to that source can be a profoundly transformational experience.