In its most basic form, yoga refers to a group of physical, mental and spiritual practices designed to bring a permanent state of peace, and the most popular benefits of yoga have been widely renowned for some time.
It's a way of life that was developed centuries ago and has become one of the most widespread wellbeing concepts globally. There are dozens of schools and disciplines each practising its own principles, but overall, these are some of the wide-reaching benefits that regular practice of yoga brings to the health of the mind and body:
It boosts happiness
It raises the levels of GABA in the brain, helping to prevent depression and improve overall mood.
It eliminates aches and pains
The process of stretching the muscles in key areas and aligning your back and posture correctly will naturally eliminate aches and pains and you'll become more flexible and supple overall.
It helps improve sleep
Yoga has a positive impact on sleep due to the synergy of mind and body practices. The physical demands of the movements ensure that your muscles relax deeply during sleep, while the breathing techniques and sense of calm that it installs bring peace of mind as you enter your slumber.
Boosts self-confidence
The combination of body, mind and soul practice leads to a heightened sense of confidence. A combination of increased posture and a boost in brain chemicals make us feel more elevated and confident.
Improves body tone
The physical nature of yoga can do wonders for body tone and physique. When combined with healthy eating practice, yoga can be transformative.
Promotes a sense of calm
The mindfulness element of yoga induces a calming and peaceful feeling. The breathing techniques learnt during yoga practice can be used in other aspects of your life to help control stress and balance.
Along your journey to whole being wellness, the benefits that you seek from yoga may evolve to support your changing health and wellness goals. At Kamalaya Koh Samui Wellness Sanctuary & Holistic Spa we guide you through the discovery process and find a practice and yoga discipline that works perfectly for you and your physical abilities.
A variety of yoga styles are taught at Kamalaya, and our instructors will ensure that sessions are appropriate for your current level of experience and personal goals. Find out more here.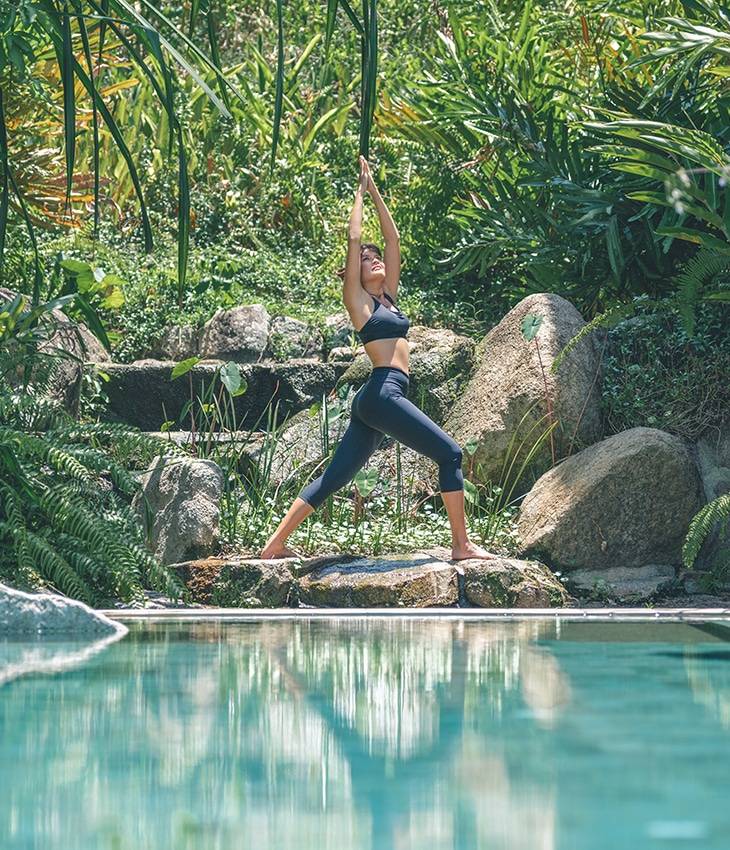 Detoxification refers to the body's ability to neutralize and safely eliminate harmful chemicals and unwanted substances from the body to address and correct toxic imbalances.
RECOMMENDED WELLNESS PROGRAMS AT KAMALAYA