DETOX DRINKS AND BEVERAGES
Many people believe a detox must involve the concept of fasting however at Kamalaya Wellness Sanctuary & Holistic Spa on the island of Koh Samui in Thailand we understand the body needs nutritional support and sustenance throughout the detox process in order to rid the body's tissues of stored toxins most effectively.
So at Kamalaya there is no fasting. Instead we have delicious vegetarian cuisine featuring a broad array of detox beverages to help boost your body's effectiveness and replenish depleted organs.
Start with a Detox Cooler like Kamalaya's Detox Juice. The water of a fresh, young coconut replenishes and cools the body while basil and pineapple support digestion, making this drink a perfect accompaniment to any meal on our detox menu.
A non-alcoholic mojito is not only a treat for the palate – pineapple, limes and mint are crushed together with green apple juice and a touch of ice, making this a superb refreshment following any meal that also tames hyperacidity and reflux.
For those needing gentle stimulation for a sluggish bowel, the Ginger Tamarind Cooler is just right. Made from coconut water, fresh ginger, tamarind paste and apple juice, this is a good drink choice before meals to soothe digestions while replenishing and cooling the body.
But these are only three options on Kamalaya's extensive menu of detox beverages. To learn more about our cuisine go to kamalaya.com, where you can even talk live via skype with a Kamalaya host about your particular detox goals and dietary preferences.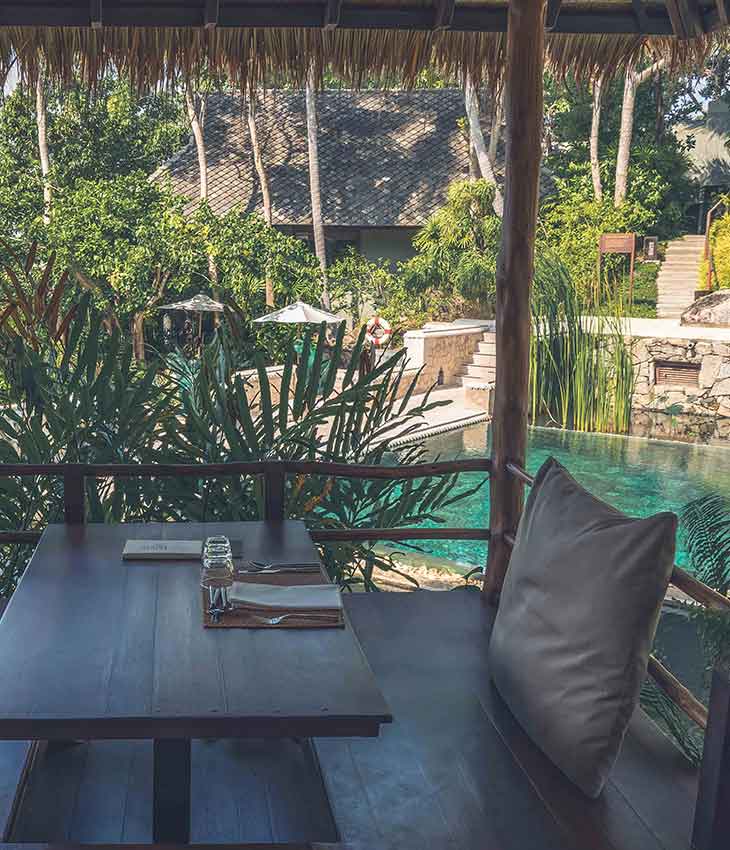 Hatha Yoga is essentially a manual for scientifically taking one's body through stages of control to a point at which one-pointed focus on the unmanifested brahman is possible.
RECOMMENDED WELLNESS PROGRAMS AT KAMALAYA