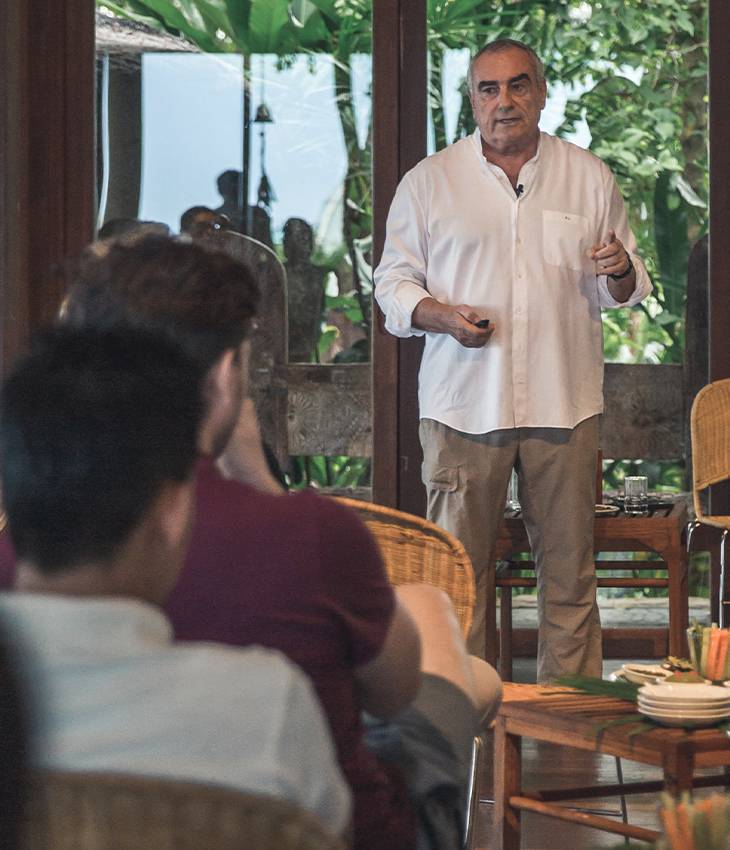 "EARTH ON BOARD – THE END OF BUSINESS AS USUAL" WITH PHILIPPE JOUBERT
The first in the new Kamalaya Conversation series features Kamalaya Koh Samui Wellness Sanctuary & Holistic Spa repeat guest Philippe Joubert, a global business leader focused on building sustainability into the heart of business strategies.
Once the President of one of the world's largest energy companies, he resigned from his mandate in 2012 to utilise his expertise and network to contribute to the emergence of a new business model -acknowledging that nature cannot be considered any longer as unlimited and free.
Now the Founder and CEO of Earth on Board, which informs, supports, and equips Boards globally to understand their fiduciary duties in relation to sustainability and structures engagement that challenges and guides executive teams, Philippe shared his reason why our resort is the ideal retreat in Koh Samui: "When at Kamalaya, I can feel this unique atmosphere and harmony between beautiful nature and minds at peace, presence of spirituality and silent joy. This slowly guides people to let go of the stressors of everyday life and open themselves to new insights, new ideas, and to explore new frontiers."
Earth on Board is an ecosystem of leading sustainability actors, Cambridge Institute for Sustainability Leadership, WBCSD (World Business Council for Sustainable Development), CDP (Carbone Disclosure Project), We Mean Business, Client Earth and The B Team dedicated to informing and helping Boards to put sustainability at the centre of the company's strategy, achieving an Earth Competent Board.
The awareness and education element of the program is built and offered in partnership with Cambridge Institute for Sustainability Leadership. Philippe advises various major global organisations dedicated to implementing strategies to overcome today's sustainability challenges.
He also holds several advisory positions to the CEOs of leading global companies in sustainability and international development. He is a regular keynote speaker and moderator of international round tables in the areas of Low Carbon Economy, Energy and Climate, Sustainable Infrastructure and Sustainable Cities, Energy and Water Nexus and Post-COP21 emergence of a new business model, which considers natural and social capital. His speaking engagements include several talks at the Paris Climate Conference in 2015.
If you missed the Kamalaya Conversation in Thailand, we have recorded a dialogue between our founder John Stewart and Philippe Joubert which beautifully captures the heart of the conversation.
At Kamalaya we offer personal mentoring sessions that help create a strategy for your life. We follow a holistic approach that incorporates all aspects of your being to help you truly connect with your inner self, helping you to rediscover inner desires and goals and support you as you create a roadmap to personal success. Find out more here.
*Any views, opinions or other information shared during Kamalaya Conversations are the speaker's own and do not necessarily reflect the views of Kamalaya.
Functional health testing usually refers to health assessments that help to gain a deeper understanding of your health and predisposition to diseases.