ENHANCE YOUR LIFE WITH KAMALAYA'S MENTORS​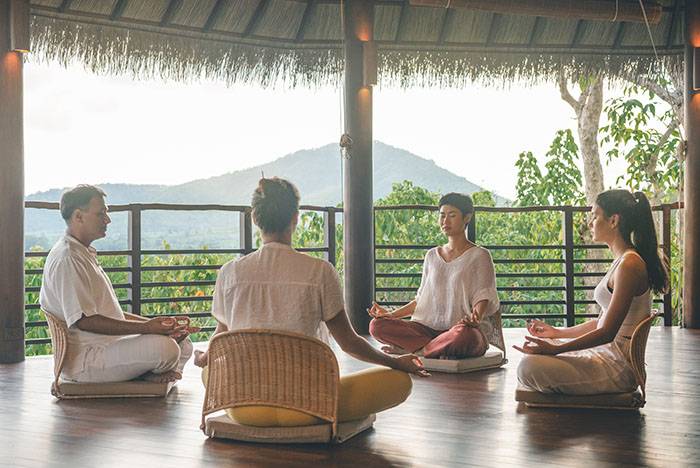 Kamalaya's dedicated Life Enhancement Mentors Sujay Seshadri, Krishna Raj and Srinivas Bhat have all studied ancient Asian philosophies while immersed in monastic lifestyles in India for almost half a century combined. Their distinctive teaching and mentoring styles have helped many people all over the world to accept and manage their emotions.
The team of Life Enhancement Mentors at Kamalaya Koh Samui Wellness Sanctuary & Holistic Spa lead guests on an inward journey of self-reflection and can support them in letting go of emotions and perceptions that may be restrictive, unhelpful or damaging. The mentors will instead sway people towards cultivating expansive thinking and embracing positive habits that enrich the mind and body, with a particular focus on increasing emotional and perceptual flexibility.
Read on to find out more about their skills, experience, knowledge and areas of expertise:
Sujay Seshadri
Spending several years as a monk and practicing hours of meditation, teachings of esoteric spiritual principles and healing processes daily, Sujay has developed a deep and profound understanding of the human mind and the different spiritual states of consciousness. Motivated to enrich lives with love and awareness, Sujay has over 20 years of experience helping people from across the world to access greater depths of inner freedom and happiness.
Krishna Raj
Krishna Raj is an internationally renowned meditation and integral wellness expert with close to 25 years of experience in his field. A powerful spiritual experience at the age of 16 inspired Raj to awaken the power of consciousness, deepen compassion, and help humanity discover inner peace and joy. Following that experience, he lived as a monk for the next 21 years and immersed deeply in meditation and sacred philosophy at a spiritual sanctuary. Over the years, he has mentored several thousand people from around the world and has guided advanced meditation retreats across India, South Korea, Europe, UK, Ireland, and Brazil. Krishna Raj holds a master's degree in psychology and his other interests include gardening, Indian classical music and reading.
Srinivas Bhat
Srinivas Bhat has trained and worked in esoteric meditations and spiritual philosophy during his tenure as a monk for 14 years in his early life. Travelling across many countries and addressing diverse audiences, Srinivas has made critical and profound contributions to the lives of those he has encountered. Based on his simple and yet profound understanding of life and the human mind through his own inner journey over four decades, he assists those who seek his support to look within for clarity and awareness on how to live a truly fulfilled life bursting with potential.
Kamalaya's Life Enhancement Mentors will hold a six-night/seven-day Finding Emotional Balance & Freedom Retreat from 1 – 7 September 2022 on Koh Samui. This retreat includes a combination of intimate group morning and afternoon sessions, group talks and meditation practices, as well as an individual 90-minute personal mentoring session to address specific goals and personal needs of each participant. The mentors are also available through Kamalaya Connect's personal online sessions to support you whenever you may be in the world. Additionally, monthly online live workshops are offered through Kamalaya Connect for only $19USD each, for a full list of workshops available until the end of 2022 please click here.
FINDING EMOTIONAL BALANCE & FREEDOM RETREAT
at Kamalaya Koh Samui
Learn how to release restricting emotions and perceptions from the past to find the freedom to create a beautiful and fulfilling future.
7 or more days
BOOK A MENTORING CONSULTATION WITH KAMALAYA MENTORS

on Kamalaya Connect
Personal mentoring sessions focus on helping you heal past emotions and discover new and inspiring ways to get the most out of life.
US$ 168
60 minutes
Colon cleansing aids in the removal of plaque and waste matter that has accumulated over many years and has created blockages and sluggishness in the digestive system.
RECOMMENDED WELLNESS PROGRAMS AT KAMALAYA
COMPREHENSIVE OPTIMAL FITNESS