Kamalays detox programs feature a combination of the following core detox treatments:
Body Bio-Impedance Analaysis (BIA)
BIA is a method of measuring several key health markers, including levels of hydration, the ratio of body fat against lean muscle mass, and cellular vitality. This helps to determine a realistic measure of your health and wellbeing. This information is useful for making appropriate recommendations to achieve a better body balance to improve overall health and prevent illness. BIA gives valuable information on cellular health, metabolism, hydration, the ratio of body fat against lean muscle mass and levels of toxicity to help create a program suited to your individual needs.
Colon Hydrotherapy
Colon Hydrotherapy is a key treatment in any detoxification program, using warm water to gently cleanse the entire large colon. Colon Hydrotherapy aids in the removal of plaque and waste matter that may have accumulated over many years, creating blockages and sluggishness in our digestive system. Removal of this plaque enhances liver function and detoxification, improves lymphatic and capillary function and allows nutrients to be absorbed more efficiently. This therapy can improve ailments associated with a poorly functioning liver, including headaches, fatigue, irritability, skin conditions and many allergies. It is also beneficial for increasing energy and reducing digestive symptoms such as bloating, gas, constipation and flatulence. Cleansing the colon is also said to bring clarity of mind. Using state-of-theart, FDA-approved equipment that is safe and hygienic, Colon Hydrotherapy is performed by a highly trained nurse or medical therapist.
Far Infrared Sauna
Far Infrared therapy provides deeply penetrating heat while maintaining a comfortable air temperature of 42-45 degrees Celsius. Use of the Far Infrared Sauna has many therapeutic benefits; it stimulates circulation and boosts immunity, increases metabolism and the burning of calories, and promotes detoxification to purify the body. It may also reduce heavy metal accumulation. Far Infrared therapy deep cleanses the skin, reduces cellulite, and slows the ageing process because it promotes skin cell regeneration and unburdens the body of toxins.
Chi Nei Tsang (Taoist abdominal massage)
Chi Nei Tsang is excellent for a diversity of health imbalances from digestive problems to nervous tension and stress. It promotes circulation and therefore health of the internal organs, while also balancing the nervous system to release stress and facilitate healing. Chi Nei Tsang is especially recommended for all detoxification, stress release and weight balancing programs.
Lymphatic Drainage Massage
This is a detoxifying treatment, using gentle rhythmic strokes and soft pumping movements to encourage the movement of lymphatic fluid without the firm pressure techniques of a regular massage. The lymphatic system acts as a transportation network for the immune system and also as a filter for harmful toxins. By encouraging the movement of lymph fluid to localised lymph nodes your body is supported in efficiently eliminating waste products. Lymphatic drainage may be particularly beneficial in addressing water retention, detoxification and weight loss. A gentle and soothing treatment also recommended to calm the nervous system and restore sleep.
Oriental Herbal Detoxifying Body Scrub & Wrap
Oriental herbs are used to gently exfoliate the body while improving overall circulation. This is followed by an invigorating wrap using Thai White Mud, which has long been used by Thai women for cleansing and brightening the skin. The addition of aromatic Thai herbs, each specially selected for its beauty and health-enhancing properties, will warm and stimulate to enhance circulation. This treatment is recommended for water retention, sluggish circulation, muscular problems and detoxification.
In addition to standard detox therapies, further treatments from both Eastern and Western medical traditions are combined to enhance wellbeing on all levels.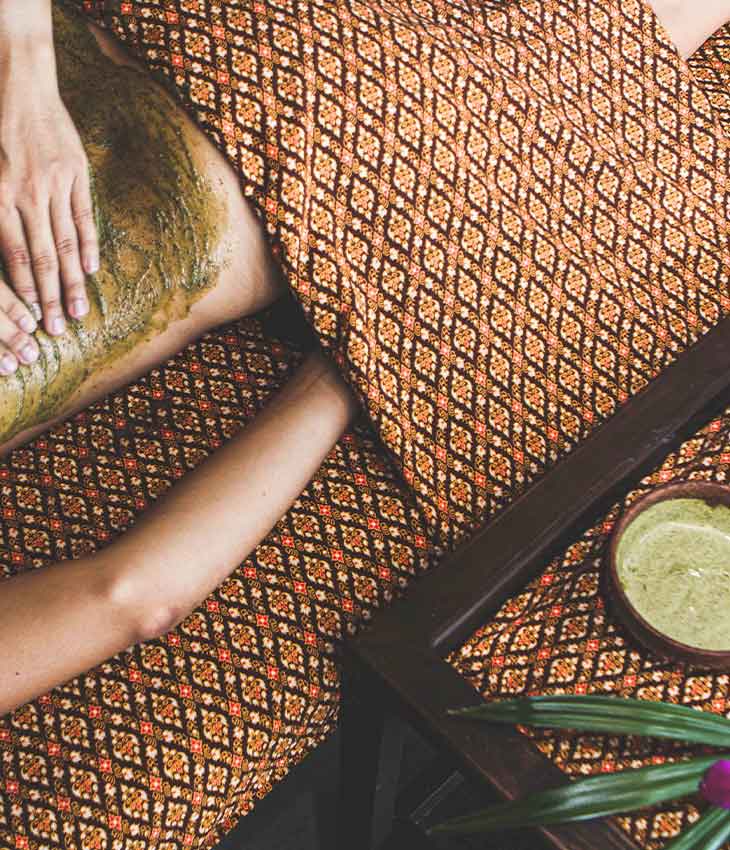 Sondra Ray is known all over the world as a foremost spiritual leader and teacher. Having written 30 books about rebirthing, relationships, ideal birth, healing and holiness, and the many mental and spiritual imperatives in life, Sondra's lectures are in high demand wherever she goes.
RECOMMENDED WELLNESS PROGRAMS AT KAMALAYA