YOGA VISITING PRACTITIONER
Kamalaya Koh Samui Wellness Sanctuary & Holistic Spa plays host to several world-leading visiting practitioners who share their incredible learning and philosophies with our guests.
A previous guest of Kamalaya's was Simon Low, Principal of 'The Yoga Academy' and co-founder of Triyoga in London.
Simon Low's approach to Yang Yoga is a combination of continually flowing vinyasa and a broad asana spectrum that builds energy, flexibility and strength. But deeply honouring the natural rhythms and construction of the human anatomy, precision of alignment is balanced by circular and spiral movement patterns with particular emphasis on joint care, breath work and ease of movement.
Simon's Yin Yoga teachings incorporate a series of deeply restorative asanas alongside postures inspired by Taoist Yoga that stimulate energy meridians and connective tissue while offering a profoundly effective platform for the many facets of 'presence'.
Kamalaya presents a regular program of holistic wellness experiences for the mind, body and soul. Our extensive wellbeing menu, the expertise of our team and visiting practitioners, the tranquil and picturesque surroundings of our resort as well as the thoughtfulness we put into our culinary offering combine seamlessly to bring you the ultimate holistic retreat.
Browse our full collection of wellness programs and experiences in Koh Samui here.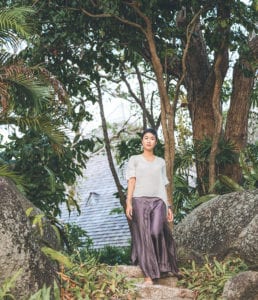 The signs of adrenal burnout are often hard to diagnose correctly, since they seem like part of everyday life. But if you suffer from an afternoon energy crash that is followed by a boost of energy late in the evening, you should take a closer look.
RECOMMENDED WELLNESS PROGRAMS AT KAMALAYA