FINDING EMOTIONAL BALANCE & FREEDOM
GROUP RETREAT FOR EMOTIONAL BALANCE AND LIFE ENHANCEMENT
Learn how to release restricting emotions and perceptions from the past to find the freedom to create a beautiful and fulfilling future. Allow our Life Enhancement Mentors to guide you on an inward journey at the greater depth that only a retreat setting can truly offer. 'Finding Emotional Balance & Freedom' provides a safe container to facilitate personal insights and realizations with both 1:1 and intimate small group elements.
Retreat dates to be announced
6 nights' accommodation
Full board of Kamalaya's Inspired Healthy Cuisine
All beverages, excluding imported drinks & alcohol
Roundtrip airport transfers
Tropical welcome drink upon arrival
5 morning group sessions
5 afternoon group sessions
1x 60 minute Traditional Asian Foot Massage
1x 60 minute Traditional Asian Hand Massage
Choice of 1x 60 minute Vital Essence Oil Massage or 1x 60 minute Thai Massage
1x 60 minute Indian Head Massage
1x 30 minute Chi Nei Tsang
Use of swimming and plunge pools, steam caverns, fitness and yoga facilities
Complimentary attendance to scheduled daily holistic fitness activities
One wellness gift bag
20% Discount on additional Wellness treatments (excluding Visiting Practitioner sessions).
Retreat dates to be announced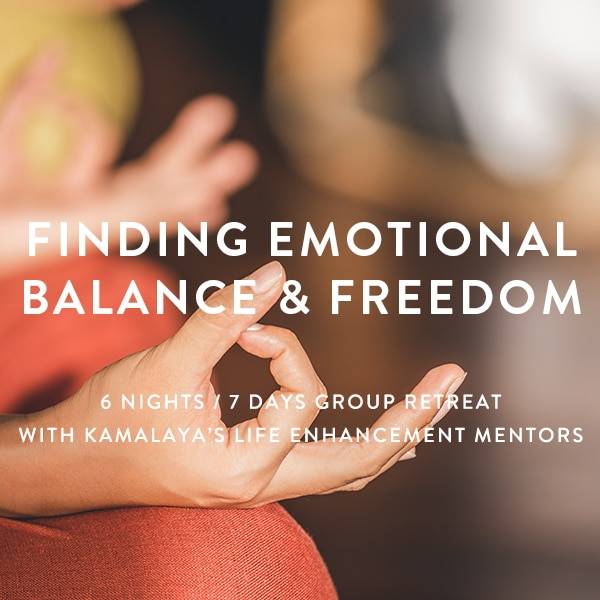 Sujay Seshadri
Spending a number of years ordained as a monk and practicing meditation, Sujay has developed a deep and profound understanding of the human mind and the different spiritual states of consciousness. Motivated to enrich lives with love and awareness, Sujay has over 20 years experience helping people all over the world access greater depths of inner freedom and happiness.
YOUR TREATMENTS EXPLAINED
VITAL ESSENCE OIL MASSAGE
Kamalaya's unique Vital Essence Oil Massage combines Asian knowledge of energy principles with the science of aromatherapy to create the perfect synergy between East and West. This magical and harmonising experience is a simple and effective way to let go of tensions, improve your health, balance your emotions and enhance your life. One of our Five Element essential oils will be selected to suit your body's constitution: Water, Wood (Air), Fire, Earth, and Metal (Ether).
THAI MASSAGE
Thai massage is based on the discovery of ten invisible energy lines called Sen, which run along the body. Your journey begins with a masterful combination of Thai stretching techniques and deep tissue pressure point massage. This stimulates the blood flow, releases toxins, and allows the body to naturally heal itself and restore suppleness. Daily Thai Massage can help accelerate the pace of the detoxification process and reduce any discomfort. This treatment is available with or without the use of a hot herbal compress. The hot herbal compress, which is an ancient Thai healing tradition, uses a potent blend of herbs that are designed to open energy pathways directly affecting the brain. This can help to clear mental fog, soothe and calm the mind.
TRADITIONAL ASIAN FOOT MASSAGE
Ancient Chinese theory of approximately 5000 years ago observed that feet are miniature maps of your entire body, with specific points on the feet corresponding to all major body parts and organs. This treatment uses specific pressure points to systematically activate the nerve reflexes, thereby stimulating all body organs and tissues to improve overall function and wellbeing. Effective for calming the mind, relieving headaches and inducing deep and restful sleep.
TRADITIONAL ASIAN HAND MASSAGE
Inspired by Korean hand acupuncture, this highly effective treatment opens the energy channels of your chest, lungs, and heart centre thereby facilitating the release of accumulated emotional stress and old emotional patterns (particularly those associated with sadness and grief). Profoundly effective for opening your heart centre and facilitating the flow of joy, love, and bliss, this treatment has a deeply balancing effect on your psyche. It also soothes the nerves in the arms and hands and helps reduce tension associated with desk work.
INDIAN HEAD MASSAGE
Based on the ancient healing system of Ayurveda, this massage treatment is received in a seated position to relieve tension and blockages from your shoulders, neck, back and scalp. Using deep thumb and finger pressure, you will experience improved circulation to the head, the release of emotional and physical tension, and an enhanced state of relaxation and mental clarity.
CHI NEI TSANG
Chi Nei Tsang is excellent for a diversity of health imbalances from digestive problems to nervous tension and stress. It promotes circulation and therefore health of the internal organs, while also balancing the nervous system to release stress and facilitate healing. Based on the Taoist theory that refers to the 'gut' as a 'second brain', this treatment releases stored emotional and psychological tension and stress thereby promoting healing on an emotional level. A series of treatments is most beneficial. Chi Nei Tsang is especially recommended for all detoxification, stress release and weight balancing programs.
Please note that Kamalaya's wellness programs have been designed to help you reach your health goals in the most effective way. Any changes made to your program may compromise the efficacy of the program and the overall result.
After check in, guests wishing to change or eliminate specific treatments in confirmed packages may do so subject to availability of the therapy they wish to substitute.
All Kamalaya Wellness packages carry a built-in 20% discount on wellness and food and beverage services. Therefore cancellation of any packaged therapies will be credited at 80% of the normal retail price.
Treatments selected in substitution will be charged at full retail rate against which any credits can be applied.
Credits against cancelled treatments may only be used towards the purchase of treatments offered on the Wellness Sanctuary & Holistic Spa treatment menu. These credits may not be used towards sessions with Visiting Practitioners, food and beverage, accommodation, purchases in the resort's retail shop or any incidental costs such as laundry services etc.
In the case of a contra-indication whereby Kamalaya's health practitioners advise against a certain treatment included in the wellness package a credit of 80% will apply.
Any cancelled treatments that are later re-instated into the package will be charged at 100%.
Any unused credit from cancelling package treatments is non-refundable and non-transferable if left un-used by the end of the stay.
EXPLORE OTHER WELLNESS GOALS