SONDRA RAY – VISITING PRACTITIONER AT KAMALAYA
17 – 29 November 2022
LIBERATING BREATHWORK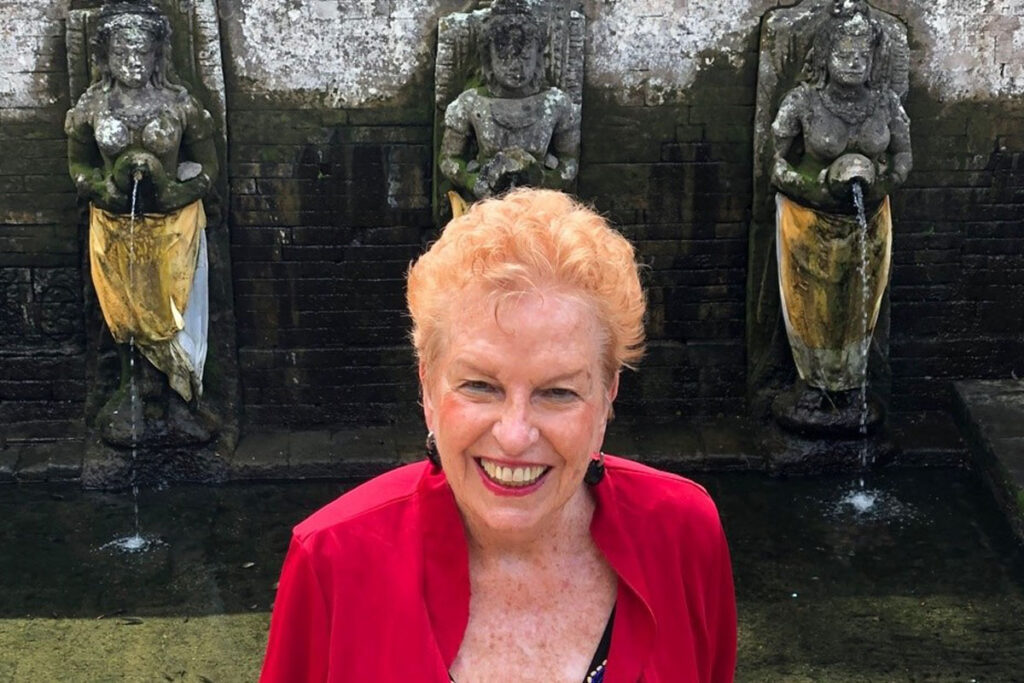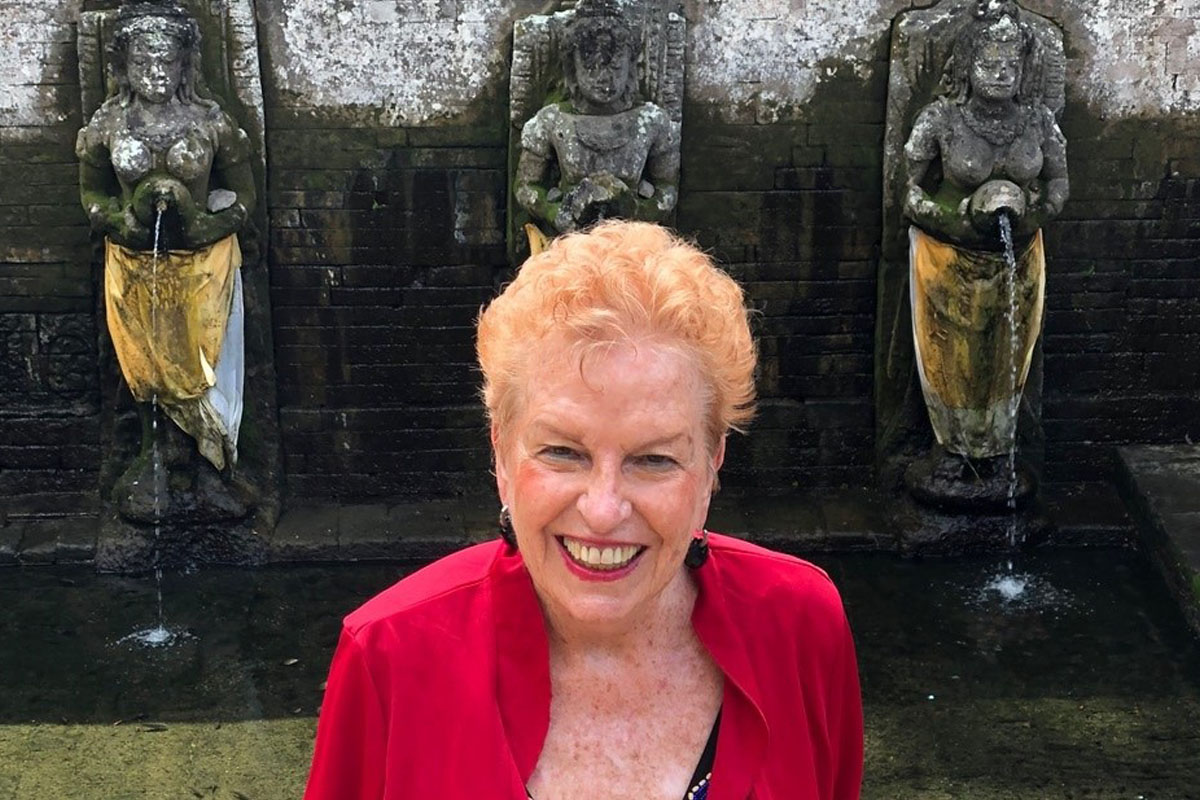 ABOUT SONDRA RAY

Due to popular demand, Sondra Ray returns to Kamalaya after three years to offer life-transforming and profound Liberation Breathing® sessions. Sondra is known the world over as one of the most dynamic spiritual leaders of our day. She is recognized by many as a teacher, author, rebirther, lecturer, and healer, with renowned expertise in relationships. Sondra has written 30 books about rebirthing, relationships, ideal birth, The Forgiveness Diet©, A Course in Miracles, healing and holiness, the many mental and spiritual imperatives in life, and other deeply pertinent subjects in our quest to lovingly integrate ourselves in these modern times. In her bestseller, The Only Diet There Is, Sondra shows people how to lose weight by forgiving people, especially themselves.
Sondra's education began at the University of Florida College of Nursing where she earned a B.S. degree in Nursing, which she followed with a master's degree in Public Health and Family Sociology from the University of Arizona. She trained as a nurse practitioner in obstetrics and gynaecology. In the early 1960s Sondra was inspired by President Kennedy and was one of the first members that formed the initial 10 groups of Peace Corp stationed in Peru. Her experience with Peace Corp laid the foundation for her lifelong dedication to world service.
Today, Sondra Ray is known all over the world as a foremost spiritual leader and teacher. Having written 30 books about rebirthing, relationships, ideal birth, healing and holiness, and the many mental and spiritual imperatives in life, Sondra's lectures are in high demand wherever she goes. In her best seller, The Only Diet There Is, Sondra explains how to lose weight by forgiving people, especially themselves.
In the 1970s together with the founder of the Rebirthing Experience, Leonard Orr, Ray received international acclaim and was recognised as a pioneer in this profound field. Using this consciously connected breathing method, she has trained thousands of people around the world and has become an international expert on how birth trauma affects the human body, relationships and even career and the entire life path. By invoking the Divine Mother's energy into her breathing sessions, Sondra Ray has taken the rebirthing experience to a new level of effectiveness, which is now called LIBERATION BREATHING®.
"This dynamic breathing process produces extraordinary healing results in all your relationships — with your mate, with yourself and with life very fast. By taking in more Life Force through the breath, limiting thoughts and memories, which are the cause of all problems and disease, come to the surface of the mind so they can be 'breathed out', forgiven and released." – says Sondra about her work.
Often proclaimed as the "Mother of Rebirthing", Sondra has developed several seminars that have helped thousands of people improve their relationships by recognising common negative family patterns and by dissolving these patterns through LIBERATION BREATHING® techniques and affirmations of creative thought. One of the most popular seminars is called Loving Relationships Training™ which has evolved through time and experience into the New LRT®.
She has led her seminars and training across the globe in locations as diverse as England, France, Spain, Italy, Germany, Iceland, Ireland, Poland, Sweden, Estonia, Russia, New Zealand, Australia, Singapore, Bali, and Japan.
From 1977 to 1984 Sondra was honoured to become a lifelong student and disciple of the immortal master, Maha Avatar Herakahn Babaji in India. And for the past 26 years, she has led annual pilgrimages to India, Iceland, Bali and Hawaii to introduce thousands to his deep spiritual heritage. The Indian Quest is given every spring during which Sondra takes people to the banks of the Ganges in Herakahn. This nine-day spiritual journey is dedicated to Spring Navaratri honouring the Divine Mother – the feminine aspects of the divine nature that permeates all life. During the India Quest, participants are also immersed in the LIBERATION BREATHING® practices on daily basis being the most powerful and generous Sondra's offering of the year.
Nowadays, Ray, together with her husband Markus Ray, travels the world teaching and offering private healing practices in person and via online sessions. From her students and clients, you will often hear that LIBERATION BREATHING® has saved them years of therapy and accelerated their self-development.
LIBERATION BREATHING® EXPLAINED
Liberation Breathing® is a conscious connected breathing process that restores the mind and body to health and wellness. It is a modern way of taking in more life force and is easy and simple. This technique is known to be the quickest way to clear negative thoughts and memories that consciously and unconsciously limit your life.
Liberation Breathing® can save years of struggle and bring you to decisions that will alter your life for the better while liberating you from the past. Through Liberation Breathing® you can reclaim your power as ruler of your destiny. No longer will any circumstances be "beyond your control", as you invite the Divine into your life to forgive and erase the past and inspire you to be yourself.
This breathwork technique recognizes the power of your breath to transform you and brings a new awareness of your true identity. Yoga masters knew from ancient times that the breath was the most essential part of human life, connecting us to the life energy behind all matter. They called this energy Prana. Sondra Ray's Liberation Breathing® is a modern-day version of pranic breathing that gets you in touch with who you are, free of problems and the cause and effects of karma.
BOOK A SESSION WITH SONDRA

EXPLORE
CHOOSE YOUR OPTIONS
MORE VISITING PRACTIONERS