LUKE BROWN – VISIONARY ARTIST AT KAMALAYA
15 – 21 October 2022
SPECTRAL EYES ART EXHIBITION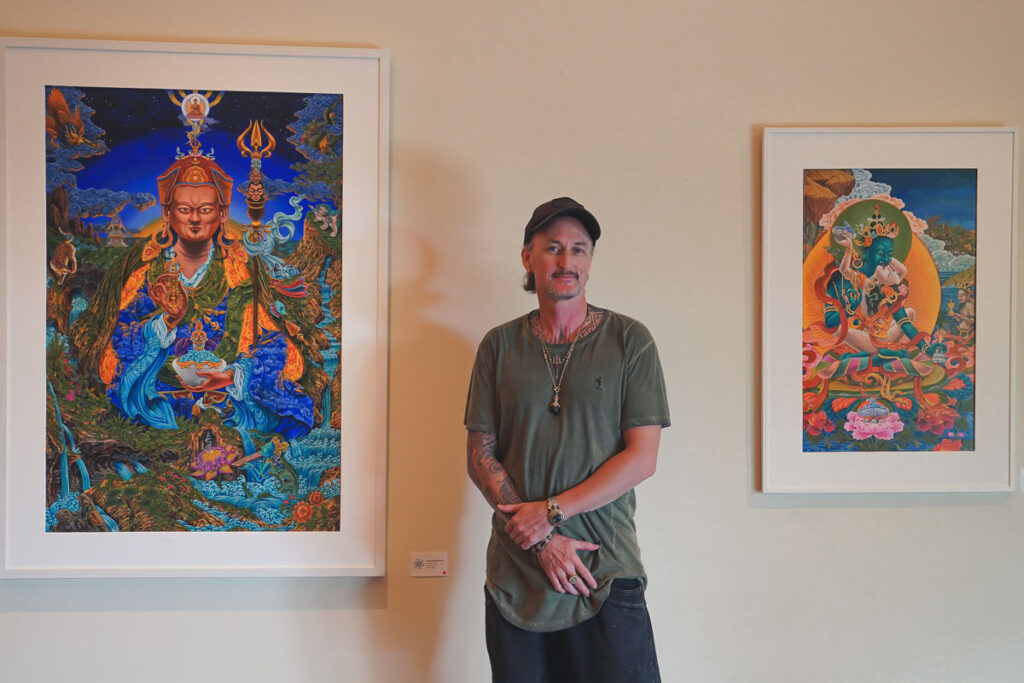 ABOUT LUKE BROWN
Born in Ontario Canada into a creative and supportive family, Luke received a Bachelor of Fine Arts Degree from Ontario College of Art and Design in 1998, and today is one of the world's most well-known and sought visionary artists.
Luke intends to take the viewer through an alternative dimension; a transpersonal domain beyond time and space, contributing to the expansion of collective consciousness. The embodiment of mystical experience using the colourful symmetries in his work is timeless and magical. His paintings are direct translations of personal experiences of heightened inner vision. Each of Luke's paintings requires hundreds of hours of work, taking anywhere from six months to two years to complete.
ABOUT THE EXHIBITION

We invite you on a creative journey into an alternative dimension through the work of visionary artist Luke Brown available on display at The Gallery. Luke will be visiting Kamalaya for a few days in October to take our guests through his creative expression that taps into something bigger than ourselves, activating the mind and stimulating the creative spirit within us.
During his visit, the exhibition will be complemented by introductory talks and an open discussion with the artist and Kamalaya's founder John Stewart. Luke will also be holding art workshops where he will talk about the art of creative expression and painting techniques. Painting in oils and acrylics while also utilising digital mediums in his explorations of the infinite inner expanse, he is best known for his obsessive attention to detail, using the smallest brushes available. He is also passionate about creating multi-media sculptural works.
To commemorate Luke's artistic display at Kamalaya, our culinary team will feature limited-edition drinks and food during lunchtime at Amrita Café. Do not miss this epicurean experience to complete your transcendental journey from the physical world and into a wider vision of awareness with spiritual and mystical themes.
For the past 20 years, Luke has exhibited worldwide alongside renowned luminaries such as Alex Grey, HR Giger, Ernst Fuchs and Robert Venosa. He has taught at the Visionary art Academy in Vienna, sharing his knowledge and skills with the next generation of visionary artists. Luke's art is on permanent display worldwide and has been purchased by collectors such as the HR Giger Museum in Switzerland, Alex Grey's Chapel of Sacred Mirrors in New York, Robbie Williams, the Pritzker family, and most recently Meow Wolf has unveiled his work in their newest Las Vegas exhibition.
Do not miss this once-in-a-lifetime opportunity to meet one of the world's most wanted visionary artists at Koh Samui's leading wellness retreat this October.
BOOK A SESSION WITH MASTER SONG

EXPLORE
CHOOSE YOUR OPTIONS
MORE VISITING PRACTIONERS